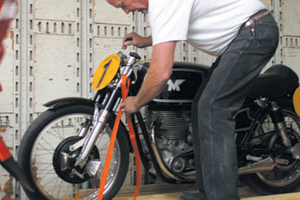 Motorcycle shipping at Coleman Worldwide Moving provides secure transport of your bike, no matter where in the world it needs to go. Whether you have a rally in Raleigh or a trade show in Tampa, we are the experts to handle the transport of your motorcycle. Our highly-trained professionals are knowledgeable about the proper handling and shipping techniques required for high-value products like motorcycles. We provide motorcycle transport services for all types of bikes, from custom Choppers to performance bikes.
Motorcycle Moving Specialists
We specialize in motorcycle shipping, which means our equipment, professionals and techniques cater to the specific demands of transporting these high-value items. First, our skilled professionals load your motorcycle onto our air ride trailers using lift gates, reducing the chance of damage during the loading process. Once loaded onto the truck, we use secure skids, soft ties and pads to protect your motorcycle and prepare it for transit. Before the truck every begins to move, we double check to make sure your motorcycle is sound, secure and ready for transport.
Motorcycle Transport for Door-to-Door Shipping Worldwide
Our motorcycle shipping services are door-to-door, no matter where in the world your bike is going. When Coleman-Allied arrives at your motorcycle's specified destination, we unload your bike carefully. All of the protective measures and special precautions we take are to ensure your motorcycle arrives to you in the exact condition you left it. We are truly motorcycle transport specialists, as we have perfected the process over the last nine decades. Fill out our online form now for your free moving estimate from Coleman-Allied.