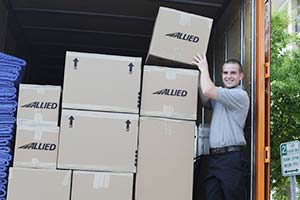 At Coleman Worldwide Moving, we are local movers who realize that even short distance relocation can be complex. For this reason, we put a customized plan into action that allows you to focus on other aspects of your new journey and lets us manage the details. From the beginning of your move until the end, your personal move coordinator will be with you every step of the way to answer any questions you may have.
Local Moving Company with Flexible Service Offerings
We are local movers who provide flexible and diverse service options to ensure that every challenge of your move is met with a customized solution. We provide a wide range of services for local moves to ensure your household belongings are transported securely and efficiently, even when only traveling a short distance. Some of our local moving services include full-service packing, fragile-only packing, packing material sales, custom crating, short- and long-term storage, free stretch wrapping of furniture, unpacking and debris removal, plus much more.
Local Moving Company vs. Do-it-Yourself Move
Many people ask why using professional local movers is better than a do-it-yourself move. Although local moves only require transporting goods a short distance, they still consume a lot of energy, time and money. You have to pay to rent a moving truck; take the time to pack all your belongings; and spend time loading, transporting and unloading your shipment. This may require taking off work to accomplish all these things. Often, you will need to recruit friends and family to help, depending on the size and scope of your move. All things considered, hiring 'Coleman-Allied as your local movers is not only more energy and time efficient, but can also be just as cost-effective as a do-it-yourself move.
Local Moving Company of Choice
Want to hear more about the services we offer as local movers? Fill out our online quote form today for your free moving estimate.