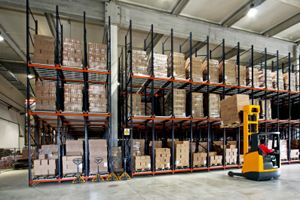 Coleman Worldwide Moving has the warehousing and storage services for a wide range of needs. Whether you need to store household goods, commercial goods or records and documents, we have the necessary storage programs to cater to these requirements. Coleman-Allied maintains expansive warehouse facilities all over the nation, from Maryland to California and nearly everywhere in between. Regardless of where you are located, there is sure to be a Coleman-Allied warehouse conveniently located nearby.
Flexible Warehouse and Storage Options
Our warehouse and storage options for household and commercial goods are flexible to meet your unique demands. We offer both short- and long-term storage with competitive monthly rates. We can pick up your items to be stored, then arrange for their pickup or delivery when you are ready to retrieve them. Our inventory management system ensures that while your items are stored with us, we know exactly where they are for expedited pickup and delivery.
Secure and Clean Warehouse and Storage Facilities
Coleman-Allied warehouses are state-of-the-art facilities outfitted with fire and theft protection systems, 24-hour surveillance and fully secured premises. Your items will be palletized and vaulted, and we provide open racking for various commercial goods. Rest assured that when your goods are in Coleman-Allied hands, they will be stored in immaculately kept, secure facilities.
Document & Records Storage
In addition to warehousing and storage for goods, Coleman-Allied offers records storage at various facilities. Medical offices, law offices and other businesses trust in our records storage services for the total safekeeping of their sensitive files and documents. To learn which Coleman-Allied warehouses offer records storage, contact us today.
If you are interested in warehousing and storage from Coleman-Allied, fill out our online quote form today for a free estimate.